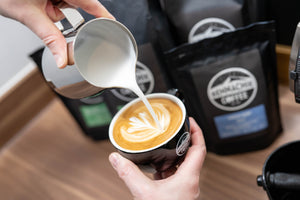 Coffee Accessories from Bennachie Coffee
---
Looking for a coffee grinder, craft drip coffee kit, coffee tampers, coffee cup or milk jug?
We offer a range of coffee accessories, kits and equipment, including the popular Hario V60 Glass Coffee Brewing Set. Serious coffee enthusiasts tend to purchase tools like the coffee tamper and milk pitcher for frothy milk to accompany our lovely smooth coffee blends. 
You may be looking for the perfect cappuccino cup and saucer or an ethical, reusable travel coffee mug. Our additional coffee tools and equipment are designed to help you make the most of your brew and enjoy a fresh cup of coffee every time.
Our shop is your one-stop destination for all your coffee needs. We offer high-quality coffee grinders, reusable coffee cups, filters, bags, and even coffee vouchers for the coffee lover in your life.
---